Nanaimo's Combination Boiler Experts.
The Ultimate in Energy Efficiency.
Heat your home and your water with an all-in-one solution.
If you would like to set up a service time or to get a quote on combination boiler repair or new installation, please fill in the form or give us a call directly at 250-585-0233.
Combination Boilers in Nanaimo
Combination, or Combi, boilers provide high efficiency space heating and domestic hot water in a compact footprint that is easy to install and maintain. When a hot water tap is opened, incoming water flows through the heat exchanger. Heated boiler water, supplied from the fire tube heat exchanger, prioritizes heating the domestic water to the desired temperature. When space heating is needed, a diverter valve directs the heated boiler water into the external space heating loop.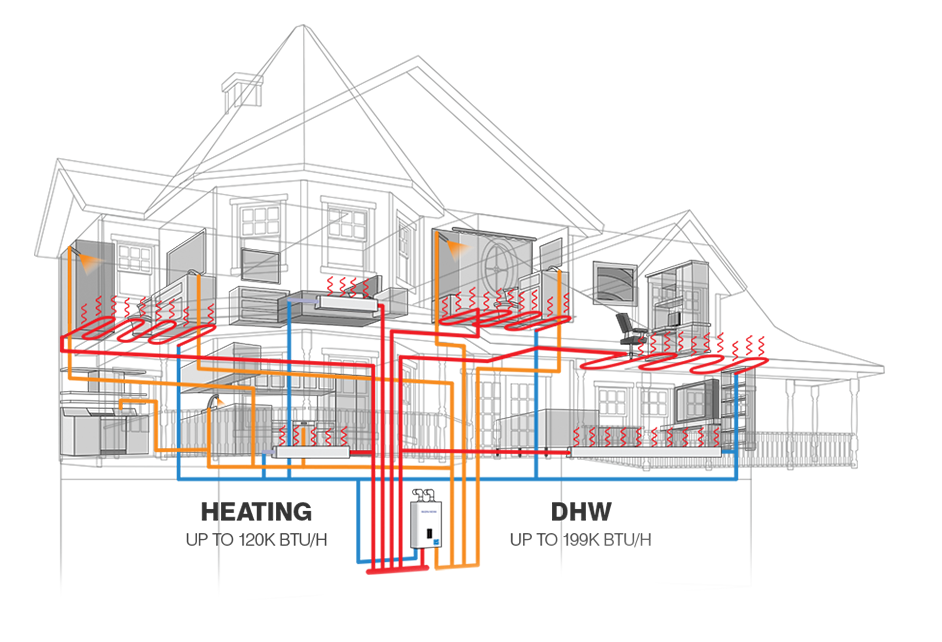 The first high efficiency tankless condensing combi-boiler that can do it all
Navien NCB-E is the first high efficiency condensing combination boiler with the capacity to supply both heat and domestic hot water for larger homes — enough hydronic heat for a whole house, plus hot water to run two showers and a dishwasher all at the same time.
The NCB-E takes up 80% less space than a traditional floor standing boiler and tank water heater. You now have more room, save energy and enjoy all the hot water you need, whenever you want it.
Combination Boiler Installation Highlight
Originally this was a oil fired boiler paired with an electric hot water tank. We removed the old system and installed a combination boiler capable of handling both domestic hot water, and radiant heating. Installation took approximately 4 days. We paired the control end of this system with Salus wireless controls, allowing for wifi connected thermostats.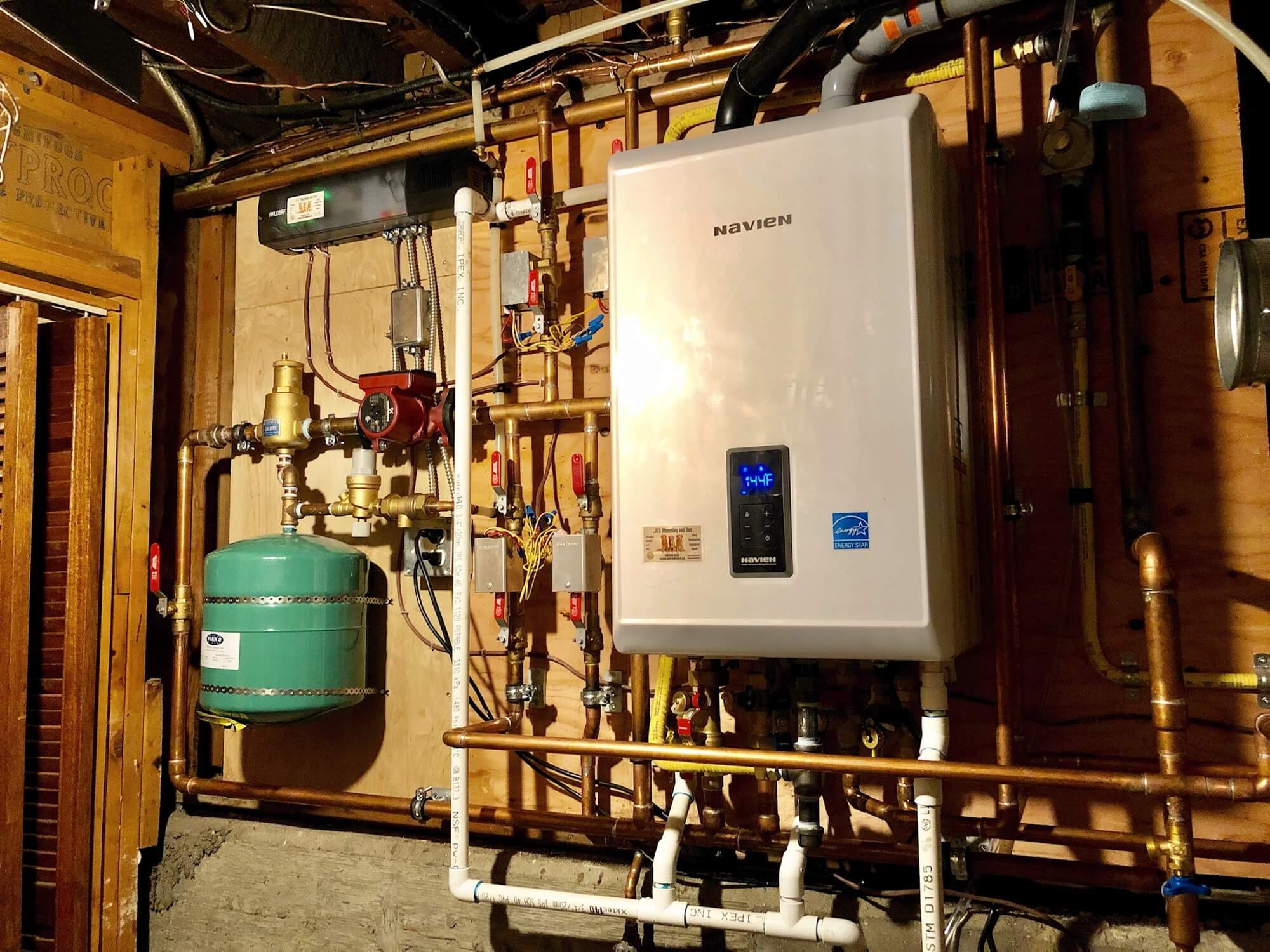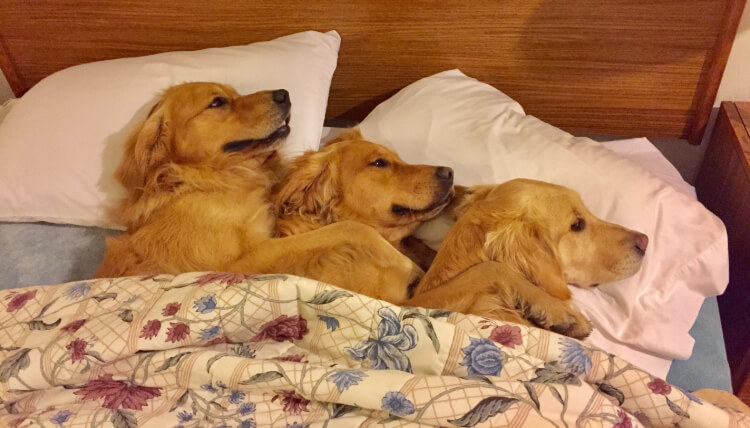 You can rest easy when you hire JD Plumbing & Gas to repair or install your combination boiler in Nanaimo.
We offer a complete 100% satisfaction guarantee and our combination boilers come with industry leading warranties. Trusting us with your water tanks ensures the job is done to the highest standard, up to code and all safety precautions taken into consideration. This level of care and service is why we are one of the highest-rated plumbers in Nanaimo.
Benefits of Combination Boilers
Compact design
Heat water & your house with one unit
Energy efficient
Cost effective
Financing available
Parts & worksmanship guaranteed
F.A.Q.
Combo-Boilers are a great, space and energy efficient way to hear your home and hot water. If you have any questions about combo-boilers, feel free to reach out to our friendly plumbing experts.
What's the main advantage of a combo-boiler?
Combo-boilers combine space heating and hot water supply in one high efficiency appliance, providing a space-saving choice.
What is the difference between a combo-boiler and a traditional boiler?
Although both can heat your home and provide hot water, there are key differences. Traditional boilers are designed mainly for space heating. Hot water from the boiler is circulated through radiators or a hydronic heating system to warm the ambient air. The traditional boiler water may also be used for domestic hot water by directing the water through a separate, integrated water heating unit before routing it to a fixture, such as a faucet or shower. Some traditional boilers are compatible with potable water, but others require additional water treatment.
Combi boilers are designed to accomplish both space and water heating with a single appliance. Like a tankless water heater, a combi boiler provides hot water on demand. It can also seamlessly switch between water heating and space heating to provide the best possible experience.
Does a combo-boiler save money?
Combi boilers are highly efficient for both space and water heating, and they may contribute to lower energy costs in your home.
Are combo-boilers energy efficient?
Yes, these solutions provide 95.0% AFUE, recognized by Energy Star as the Most Efficient. These extremely efficient and eco-friendly units provide extra energy savings over a traditional floor standing boilers and storage tanks.